The Evolution of Your Customer's Buying Persona
"Photo Credit: Shutterstock.com"
Gone are the days of Ozzie and Harriet when life was simple, wholesome, and easily understood. In today's society, where basically everyone is influenced by the internet and what they read or see on social media,¹companies are struggling to keep up with their understanding of their customer's new buying persona.
Back in 1943, American psychologist Abraham Maslow introduced "Maslow's Hierarchy of Needs" in his seminal paper entitled "A Theory of Human Motivation." ²In its simplest terms, this theory of motivation explained that an individual's behaviors are driven by five categories i.e., physiological needs, safety needs, love and belonging needs, esteem needs, and self-actualization needs. However, when applied to today's customer in the internet era, this decades old theory of motivation lacks ability and does not adequately explain how a business can apply Maslow's Hierarchy of Needs to understand and meet the unmet needs of their customers today.
Almost 80-years later, the individual behaviors first introduced by Maslow have naturally moved on or evolved, arguably hastened by the advent of the internet. Fascinated by this observation, The Deerborne Group, a boutique management consulting firm that advises corporate, venture capital, and private equity firms working the biotech, in-vitro diagnostics, and life sciences industries, conducted their own qualitative voice-of-customer (VOC) research to better understand their customer's unmet needs. What they found is that their client's buying persona has evolved right along with the various technologies that are at the center of the genomics and precision diagnostics evolution – the main one being next generation sequencing (NGS).
Based on their qualitative research, the leadership team at The Deerborne Group combined their newly acquired insights along with web analytics and various customer segmentation tools in order to better understand and articulate what is motivating their customers now, in today's terms. "What we needed was a new understanding and a better way of articulating how customers are motivated in today's terms" said Jeffrey Jones, Managing Partner, at The Deerborne Group. "The customer motivation pyramid does just that – it's a tool that's both current and relevant that finally explains what motivates a customer to buy your product or service in the internet era."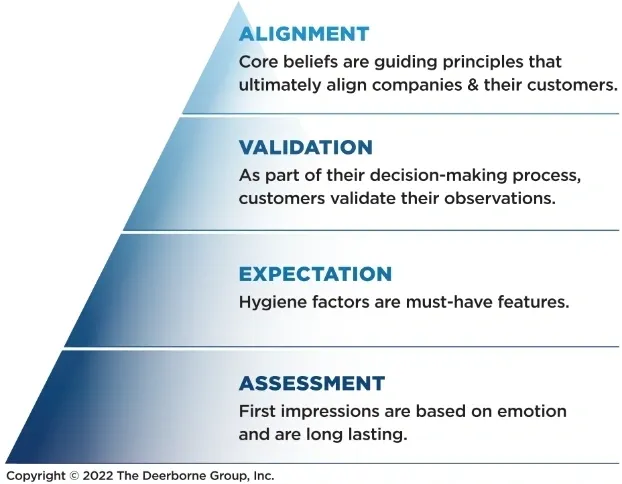 When applied to today's customer, the customer motivation pyramid uses a four steps process to help companies better understand their customer's buying persona and journey. As a general rule, customers will focus first on assessing that their own needs, or the needs of their company, are met at the bottom of the pyramid which is pretty much in line with what Maslow said about an individual's behavioral needs being met first. But once those lower-level needs have been met, their attention naturally shifts to the next higher level of the pyramid where they will ensure that their expectations are met by confirming that certain hygiene factors, that every company must have, are present. It is at this point that customers will then begin to validate their initial observations, most likely on the internet, ³ followed then by aligning their core beliefs with that of the company's. Once the customer has progressed up through each step of the pyramid and has finally arrived at alignment, you have a willing and able customer wanting to do business with your company.
The questions that any company needs to ask themselves in the era of the internet is, how well do you know your customers. Because, if you are like most of us, the answer is probably not as good as you think you do. One of the biggest mistakes that any company can make is to not take the time to do your research and truly understand your customers buying persona. Because, if done right, companies can gain valuable insights into what their prospective customers are thinking as they weigh the multitude of options available out there on the internet that might potentially address the problem that they are looking to resolve.
About The Deerborne Group:
The Deerborne Group is a boutique management consulting firm that focuses exclusively on the global biotechnology, in-vitro diagnostics, and life sciences industries. Their primary focus is advising corporations, venture capital, and private equity firms on commercial, operations, and corporate strategy. They help clients identify opportunities, minimize risks, and how best to overcome their most difficult management challenges.
If you liked this blog, make sure to share it with your friends and colleagues. For more information, please visit The Deerborne Group or follow us on LinkedIn, Facebook, or Twitter. Copyright© 2022 | The Deerborne Group, Inc.
References:
1. https://www.searchenginewatch.com/2020/11/20/how-social-media-influence-71-consumer-buying-decisions/
2. https://en.wikipedia.org/wiki/Maslow%27s_hierarchy_of_needs